"If you're sad, add more lipstick, and attack." – quote by Coco Chanel
I'm a make-up gal and I'm not ashamed to admit it to anyone. Since that first time I tried on my momma's mascara at the age of 11 years old, I was hooked. Sure, it started with a little black mascara, then some sheer lip gloss, a soft pinky blush, and then, as you continue to be curious about make-up, you move on to the big guns, the foundation and eye shadows. Those trips to Thrifty's or Walgreen's begin to have a lot more interest to you, so when your mother asked if you want to go to the store with her, you jump at the chance just so you can browse up and down the make-up isles with her.
Well, here I am, MANY years later, and I still enjoy playing with make-up. It's now an obsession with me, and I've got a small sized suitcase filled with lipsticks, lashes, powders, eye shadow palettes, etc, to prove it. These days, there are many places a person can go to buy make-up too. But my all time favorite place to get my make-up fix is that cool looking black and white striped store, that we all know as Sephora.
Now, I will admit, I seldom walk into a store, reason is because I'm afraid that I'll spend too much time there, and I've got other things to do than besides looking at 16 different foundations to chose from! Plus, it's for fun for me to shop on-line at home, in my pajamas, and I can take all the time I want, and no one is going to bother me! So, below is a short list of some of my all time favorites or new favorites from Sephora. If you have any favorite make-up "must haves", let me know please!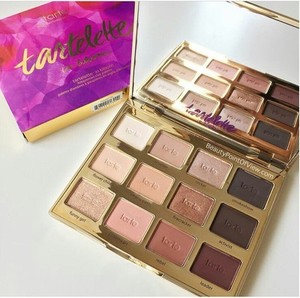 Tarte – Tartelette in Bloom Clay eye shadow palette. I use this palette almost every week. The colors are perfect for a work day, but I can easily go out with the girls after work for happy hours!
  Smashbox Photo Finish Foundation Primers. You can't go wrong with either one of these primers. I have oily skin, so I like that these work for my skin type. I tend to go back and forth between these two, but if I had to chose only one, it would be the pore minimizing. A little goes a long way.
Too Faced Peaches & Cream Lipstick Collection. Aren't these cute? And they smell good too. Yes, I wanted to try them just because of the way they looked, the details on these are adorable. But besides that, the colors are beautiful and they all look great on the lips. Smooth, and very comfortable.
 Benefit Cosmetics Brow Pencil. Now, there are many eye brow pencils on the market, and I've tried a few, but I saw this one being used on YouTube, thought I'd try it, and I'm glad that I did. Easy to use, both brushes are well made and work great. I do use it with Anastasia Beverly Hills Brow Gel, and my eye brows look amazing! *Thanks to watching Youtube!
 Boscia Balancing Facial Tonic.  I love, love this item! I use it right before going to bed, and after I wash my face in the morning. It's so refreshing, and gives my skin just the right amount of moisture, and guards my skin from dehydration. I've told others about this, and once they've tried it, they agree that it's one of their new favorite things as well!
 And lastly, this foundation is everything! Yves Saint Laurent – All Hours Full Coverage Matte Foundation. What can I say? Tried it, loved it, buy it! I'm a full coverage matte gal, not dewey, never. This was recommended to me, and I'm so happy with it! Never clogs, always looks great, and last it does! And this foundation comes in many colors, which I really like too.
Well, that's my short list of my Sephora favorite items list. I currently use all of these products, but that's half the fun of make-up, changing, trying new items, and always, always finding a new way to be creative with make-up. And I do NOT get all my make-up here, that would be, 1) expensive, and 2) boring! I do also use drug store make up items, but that could be a different blog.
Just remember, make-up is suppose to be fun. It's a way to be creative and to express yourself exactly as YOU want to! Make-up is ageless. Be unique. Wear those bold colors that are calling you. Use as little or as much as you want, it's totally up to you!