"The only difference between an experienced knitter and new knitter is that the experienced knitter makes bigger mistakes faster. Be bold, there are no terrible consequences in knitting." – quote by Stephanie Pearl-McPhee
There are so many different types of yarn that can be used for either knitting or crochet. Mohair, Cashmere, Alpaca, Cotton, Merino wool. Now, I still consider myself to be a beginning knitter, but I've been crocheting for over 10 years. I've purchased my fair share of yarns from the local stores such as Joann's Fabric, and Michael's, and even a few thrift stores. But I really like either ordering yarns on-line from specialties stores, or from local sellers that offer a wide variety of yarns from all over, such as shown in the above picture. I just walk into them, and I get happy! It feels very welcoming to me.
So, I'll tell you what some of my most favorite yarns are thus far, as I'm sure that I'll find more as time goes by!
Wool and the Gang.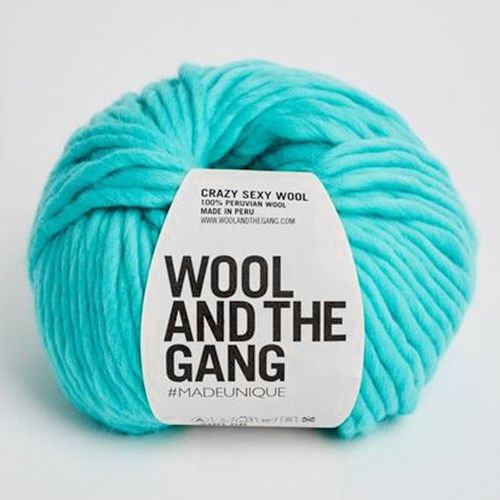 I just love the yarns from Wool and the Gang. Not only is their yarn a higher quality yarn, but the names they give them are adorable. "Crazy Sexy Wool", "Heal the Wool", "Sugar Baby Alpaca". They have a very cool website, and it's very easy to search on it for anything that you'll need. The colors are amazing! I've made quite a few things from here, and everything has come out good. Watch some of their tutorials, those are very helpful as well. Not a cheap yarn, their Crazy Sexy Wool ball is $24.00 on their website, but for those special projects, this is the most perfect wool. One ball of this yarn is 200g/87 yards. Comes in multiple colors, and it's a very soft, and chunky wool, perfect for hats, scarfs, leg warmers, or a really nice shawl.
Purl SoHo.  
With Purl SoHo, I'm not sure which I love more, their product selections, or their patterns to chose from, both are beautiful! I'm currently knitting a throw blanket with their Super Soft Merino, which is a 100 percent Peruvian Wool. I'm telling you, I'm a little more than half way done, and I cannot wait for the blanket to be done! It's very soft, and it's warm. It'll be perfect for winter. It's 100 percent Merino wool, each skein is 100 grams and 87 yarns. Price is $19.50 each on their website. I had to order more, and it came from a different dye lot, but it wasn't a problem at all. Order from them with confidence. Again, they have a large yarn selection, from wool to linen, to Alpaca and Llama. I will say that a few of their yarns are priced on the higher end side, but so far, the quality that I've received has been superior and worth every cent. Maybe I'll post a picture of the throw blanket when it's finally done. Check out their website for more goods!
Knit Picks   
Now, Knit Picks is on-line yarn store and they've got some of the best prices. Their website is so easy to move around in, and it's really nice. You'll not only find a good selection of yarns, but the prices are pretty darn great. I've purchased yarns from their sale area, and I've been very happy so far. I've gotten their 100 percent Superfine Alpaca yarn, and it's about $7.69 a skein, and it's 50g, 200 yards. It's very soft. I like it a lot.
I've got a few local knitting and yarn stores that I like to visit as well, because sometimes you just want to play with the yarns in-person before you buy them. And I say them because I've never, never walked into a yarn store with only one ball or one skein. I think compared to some, my yarn collection is rather small, with only three containers of yarn. Believe me, if I could, I'd have a wall covered with yarn! It's my little hobby, and I'm keeping it for as long as I can!
If you are a knitter or crochet person, or you know someone that is, have them check out these yarn stores. Or, post a picture here of something that you've made too! And if you're a want-to-be knitter, I believe all of these have tutorials that you can watch and learn from, or just walk into your local craft or yarn store, and ask for help. I've always found that the people that work at these places are really helpful, and why not? They are working in a wonderful place! It's a rainbow of colors, soft yarns, and so much more. Let your imagination take you away!
And I don't know about you, but I find that knitting or crocheting is very relaxing. It's just a peaceful little hobby that I love. Give me a ball of yarn, some soft mood music, and I'm quite happy.
Peace.