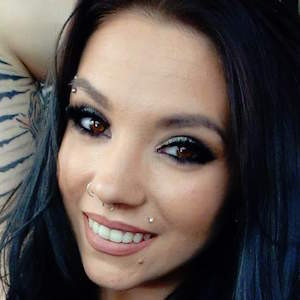 BreeAnn Barbie: When I was thinking of getting my nose pierced, I went looking on YouTube for videos and I found BreeAnn's videos. So many piercing videos! She gives a lot of good information too. How to keep your piercings clean, what to do if infected, and where to shop for jewelry, etc. She also talks about her tattoos, which I have a few myself, and she does Vlogs and beauty videos as well. She opens up about herself in a very honest and down to earth way, and it's very refreshing. She's been on YouTube since 2012, and I hope that she will continue to make videos. I've learned a lot from her videos, and I enjoy hearing about her life updates. What you see, is what you get here!
Laura Lee: There are many, MANY, people on YouTube that do make-up tutorials. I do watch them, but when I'm thinking of which ones really stand out, I'd have to put Laura Lee near the top of my list when I want to learn anything about makeup. She's funny, honest, and a lot quirky, which I find adorable. She's not afraid to laugh at herself, and you realize right away from watching her videos that she really loves what she does, and loves the people that are in her life. Being from Alabama, she's always gonna keep things real! So I watch her videos to learn about the latest make-up trends, and because I know that I'll laugh a bit too. Watching her videos are a great pick me up!
Monami Frost: Now, I stumbled upon  her videos, and at first, I wasn't sure that I liked them, but after watching a few, I realized, "Oh, this woman is good!" Have questions about tattoos? Being a vegan? Monami's got her answers for you. Her home cooking vegan meals are really great looking too, and I'm not even vegan! She invites us to see a small part of her and her lovely family, and does it with her own style. I'm glad to have found her videos. Monami is the real deal.
Maangchi: Oh, my little Maangchi! Another great find on YouTube! Her channel is about cooking and eating Korean foods. I love watching her videos, so full of life, emotions, and she's a doll! I can't eat shellfish, but that doesn't stop me from watching her when she cooks up crabs! Her videos are very well done, and I'll bet you smile a lot while watching them as I do! I've learned so much about Korean cooking from her channel, very interesting. She has a wonderful and very likable personality. And the fact that she obviously loves what she is doing, makes watching even better!
It's amazing how much information is on YouTube. Whenever someone asked me how to do something, I tell them to check out YouTube. If I'm looking for new knitting stitches, I look on YouTube. When I get home from work, instead of turning on my television, I go watch some YouTube videos. Or, if I want to kick back and close my eyes, I can find a "nature sounds" video, and instantly, I'm listening to light rain in a forest. I love, love YouTube. And I hope it never goes away.
Peace.