There are good romantic comedies, and then there are the not-so-good romantic comedies, but even a few of those are still worth watching at least once. I've always been a sucker for any type of romantic comedies. If I'm feeling a little down, they help bring me up. (and a pint of chocolate ice cream while watching is good as well!) There's just something comforting about watching people fall into love, or even out of love with one, and then right back in love with someone else. I've always been a romantic type of gal, and if it's really funny, then that's a plus!  So here are only seven of my favorite all time romantic comedies, in no particular order, they are all great in their own ways. Maybe if there's a favorite of yours, you can let us know here, and I'd gladly check it out.
 "Something About Mary" –  (1998), stars Ben Stiller and Cameron Diaz. Ted's (Ben Stiller) dream prom date with Mary (Cameron Diaz) never happens due to an embarrassing injury at her home. Years later, Ted hires Pat Healy (Matt Dillon) to track down Mary so he can reconnect with her. This film is so hilarious, and it's funny all the way throughout. I'm a huge fan of both Stiller and Diaz anyway, but they are both above average in this, and I think it's a must see for just about anyone with a sense of humor.
2. "The Wedding Planner" – (2001), stars Matthew McConaughey and Jennifer Lopez. Now, I was surprised as the next person about liking this movie as much as I did, but I really, really liked it. While celebrating her newest and most lucrative account — the wedding of Internet tycoon Fran Donelly (Bridgette Wilson-Sampras) — Mary (Jennifer Lopez) is rescued from a near-fatal collision with a runaway dumpster by handsome pediatrician Steve Edison (Matthew McConaughey). After spending the most enchanting evening of their lives together, Mary thinks she's finally found a reason to believe in love. Well, this movie has everything going for it. It's got the attractive people, the cute story line, and moments of sheer "ah" in-between. And yes, I know. Jennifer Lopez is not a great actress, but she doesn't pretend to be either. But, in this film she glows. Everyone one in this movie is fun to watch. It's worth watching. I've watched it over 10 times and it never gets old.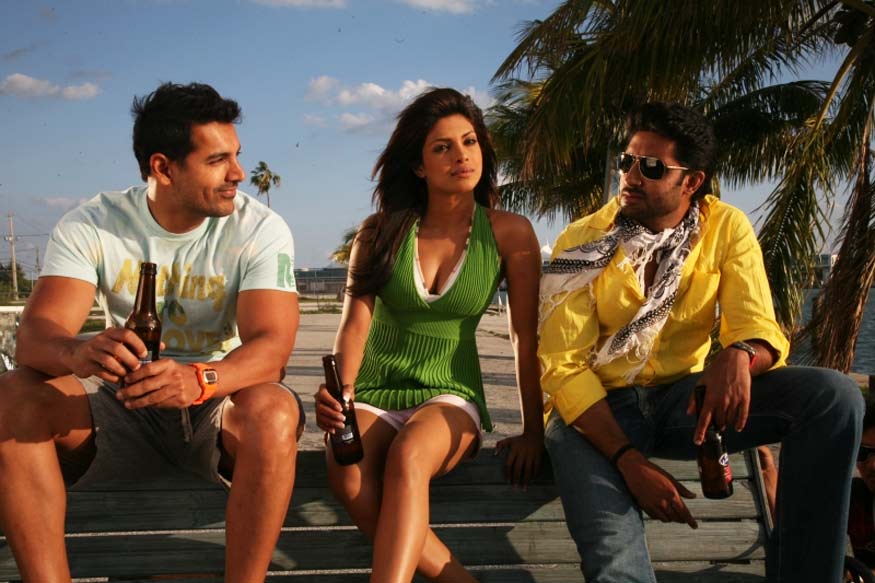 3. "Dostana" – (2008), stars Priyanka Chopra, Abhishek Bachchan, and John Abraham. This film is a very funny Bollywood romantic comedy that I've seen a few times now, and I always notice something that I didn't notice before. A love triangle forms in Miami when two men (Abhishek Bachchan, John Abraham) who are pretending to be gay both fall in love with the same woman (Priyanka Chopra). Now, I'm a fan of most Bollywood films. I've come to appreciate their humor, and I do not mind subtitles. I think if you haven't seen a Bollywood film, then this might be a good place to start. It's funny, it's a great story, and it's pretty to watch as well. Priyanka Chopra is adorable in this, and I've watched many of her films, and I have to say, the lady can act! She's stunning to look at, but then so is John Abraham. This is a gentle romantic comedy, and by that I mean it's not going to be offensive to anyone. It's very cute, and that's not a bad thing.
4. "The Apartment" – (1960), stars Jack Lemmon, Fred MacMurray, and Shirley MacLaine. A man played by Jack Lemmon, tries to rise in his company by letting its executives, like Fred MacMurray,  use his apartment for trysts, but complications and a romance of his own ensue. This is classic, and I've seen it at least 20 times. Jack Lemmon is C.C. Baxter, a very likable man, who has a apartment that he allows others to use "for whatever", even when he's not feeling good. Shirley MacLaine is the adorable elevator girl, who is the main love interest, and why not? This is a film that makes you laugh, as well as feel sorry for the "little man", even when he's really not that little. Great movie.
5. "Pretty Woman" – (1990), stars Richard Gere, Julia Roberts. The film's story centers on down-on-her-luck Hollywood prostitute Vivian Ward, who is hired by Edward Lewis, a wealthy businessman, to be his escort for several business and social functions, and their developing relationship over the course of her week-long stay with him. This film is one of the finest romantic comedies ever written, in my eyes. If I tell you that I've seen it over 30 times, that's probably underestimating myself. I LOVE this movie. It makes me cry, laugh, and touches my heart every single time I've watched it. It is Julia Roberts that steals the show here, and her ability to shine at every moment is priceless. Everyone cheers for her to come out the winner, to find what she's been missing in her life, and to find out that she is truly worthy of being loved and respected.
6. "What's Up, Doc?" – (1972), stars Barbra Streisand, Ryan O'Neal, and the lovely Madelin Kahn. Two researchers, one of them being Ryan O'Neal, have come to San Francisco to compete for a research grant in music. The man seems a bit distracted, and that was before he met a strange woman, played by Barbra Streisand, who has devoted her life to confusing and embarrassing him. At the same time a woman has her jewels stolen and a government whistle blower arrives with his stolen top secret papers. The story, which takes place in San Francisco, centers on four identical plaid overnight bags and the people who own them. There's so many, SO MANY funny parts in this movie. The way that people are fighting over these plaid bags is just hilarious! I love both Ryan and Barbra in this, but it's Eunice, Madelin Kahn's character, that I love the best. She's always been an actor that I love watching in most anything. Great film!
I would like to go home right now, and watch all of these movies, back to back, with a box of tissue, a lot of snacks, and just chill with the cats, that's how much I like all of them. What is life, if not filled with laughter? And who doesn't like to see or read about a love story with a happy ending?
Peace.