"All happiness depends on a leisurely breakfast" – quote by John Gunther
Yes, I am a breakfast person! I've never understood anyone that tells me, "I never eat breakfast." I could have breakfast for dinner, no problem! During the week, my breakfast's aren't anything special. I'll grab some yogurt and top it with some granola, or have a apple or a banana with some toast and decaf coffee. But, Monday through Friday, it's usually fast, and not always enjoyable. So when the weekend finally arrives, besides being happy to not be going to working, I'm also happy because I get to spoil myself and have a nice, leisurely breakfast out! So below are a few places that I've been to for breakfast, that I just adore!
The Alcove – Los Feliz, CA
I've been to The Alcove, dozens of times, and have not once been disappointed. Their food not only looks good, but it tastes amazing. Everything is fresh, and cooked perfectly. Often times on the weekend, there is a waiting line, but I'm an early morning riser, so getting there when they just open I tend to avoid any lines. I go for their breakfast, but I often leave with one of their many desserts. They have inside seating, but why not sit outside if you can? The staff is always helpful, friendly, and they make you feel welcomed. The parking situation is not ideal, as the restaurant is on a busy street for locals, but they do offer valet parking, which I don't mind. And remember the t.v. show, "Beverly Hills 90210", well, they often filmed scenes here as well, so that's sort of cute. Are they slightly, just slightly on the pricey side? I don't feel that they are, but some people do. I don't mind paying a little bit more for a better quality of food. And here, at The Alcove, it's a wonderful dining experience.
Bea Bea's Restaurant – Burbank, CA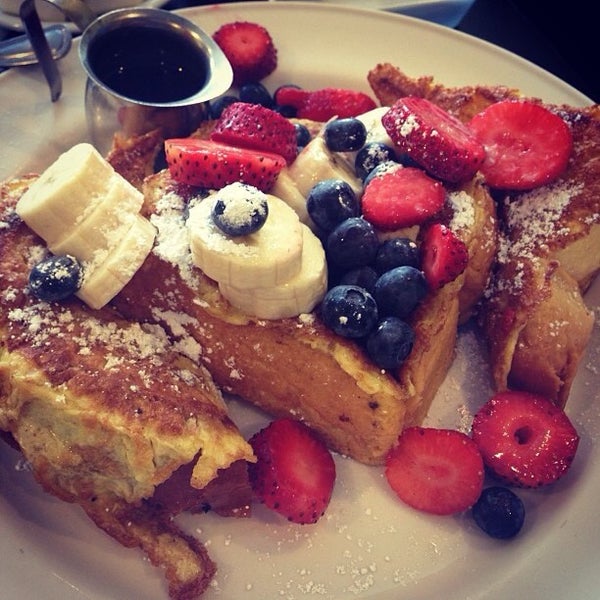 If you're looking for great pancakes, waffles, or fresh eggs for breakfast in Burbank, then search no more! Bea Bea's is outstanding for all of those things and more! Now, it's almost a guarantee that you'll be waiting in line unless you get there when they first open, but it does move fast, and it'll be worth the wait. Yes, it does get a little loud inside, but don't let that stop you from getting one of the best tasting breakfasts that you'll ever have if you're living or just visiting Burbank, California. Another plus, is that the server's will make sure that your coffee cup is always filled! And because they share the parking lot with a market and others, there is no problem finding free parking. The only problem you may come across is trying to decide which type of pancakes or waffles you want from their huge selection of choices. Yummy!
Blue Daisy – Santa Monica, CA
Going to the beach on a Saturday morning is always good, and what makes it even better is starting with a good breakfast, and you'll find that here at the Blue Daisy. The menu isn't large, but what they offer is great. Again, good service is everything, and here it's really good. Fresh food, great coffee, and located in a cool part of town. Street parking available, so check the meters or you will get a ticket. It's small inside, but again, your in Santa Monica folks!
Tallyrand Restaurant – Burbank, CA
Sometimes, you want just eggs, a meat, and potatoes. Tallyrand's is that place. Be prepared to either take some home, or share because you will get a lot of food. I've eaten here for breakfast, lunch, and dinners and I've always been a happy little camper with anything I've ordered. If you go for dinner, sit in their bar part of the restaurant, and you'll get the feeling of being at home with your oldest and dearest friends, while watching something on the t.v.'s. If you're looking for a fancy type of place, then this isn't the place for you, but trust me, you'll be missing out on some good old-fashion cooking. And the service is great too! Some of the waitresses are hilarious, which I love! Did I mention that the servings are huge? They do have their own parking lot, but it does get full quickly, so parking on the street is also available. Every time I eat here, I feel like I'm eating at home, and that's always a good feeling.
Now, this is only part one of favorite breakfast food finds, because since I love breakfast so much, I'll be adding to this post hopefully often! The more I go out to breakfast, then the more I can post!
Enjoy the rest of your day, and I hope you had time to have a good breakfast, or at least some toast with peanut butter on it! Nothing starts the day off right like breakfast!
Peace.