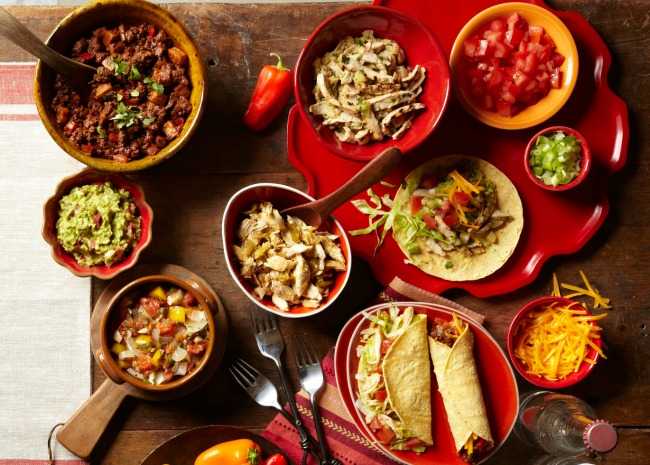 I'm lucky to have been born a Mexican-american. My mother has always cooked some of the best Mexican food that I've ever had, and I've learned a lot from her. Our kitchen was always filled with wonderful smells; enchiladas, fresh salsa, pork tacos, and chilaquiles that just melted in the mouth. My mom made other foods too, but it's her Mexican cooking that I remember most of all. She still likes to cook, but nowadays, she cooks only once in a while. But my favorite food to eat is Mexican. If I were stuck on an island for 30 days and I could only have certain foods that I could eat, one of them would for sure be cheese enchiladas and a good salsa, and Sangria.
I'm also lucky to live close to a few really great Mexican restaurants too. I'll be the first one to admit that I'm picky when it comes to Mexican restaurants. I don't like greasy tacos, or tamales that are mostly just masa, or what I call "weak" salsa. I want the real Mexican foods! So here is a short list of some of the places that I consider to be really great Mexican restaurants. In no particular order.
 Ernie's Mexican Restaurant, North Hollywood, CA.                                                                                                                                        This is a wonderful place for not only authentic Mexican food, but the prices are fair, the drinks are good, and the staff is always fun and helpful. I've been here many times, and each time the food has been on point! My favorite things from their menu are their potato tacos and their enchiladas. Order a peach margarita and you won't be disappointed.
 El Compadre, Los Angeles, CA.                                                                                                                                             Another great place for authentic Mexican food, and it's on the Sunset strip. If I'm in the area, this is one of the first places I'll go if I'm hungry and want a tasty drink, along with some chips and salsa. Now, I try not to come here at night, because it just gets too busy for me, but if you don't mind crowds, then by all means! Call ahead for resevations. I do love that the margaritas come with a flame, it's just a nice touch. Live music too. Try the chicken mole, it's so good!
 Barragan's, Burbank CA.                                                                                                                                                                This is not only one of my favorite Mexican restaurants in Burbank, but it's my mom's favorite, so I've been here many times, and it's sentimental for that reason. Their drinks are always good, the service is excellent, and their rice and beans are so good! My favorite item on the menu is the cocido. SO GOOD! Traditional. Tasty. Just plain good food. My mom loves their chicken tacos, and their cheese enchiladas.
There we have it! Just three, but there's more great Mexican restaurants out there! There's Casa Vega, that's out in the Valley, and there's El Coyote in Los Angeles. I'd recommend trying all of them! Forget making dinner and treat yourself to a nice dinner out, or meet good friends and make some memories. And don't forget those drinks!
Peace.